The Older, Wiser, Livelier Saints (OWLS) 55+ Ministry is comprised of men and women 55 years old and above.
MISSION: Provide senior adults the opportunity to become fully devoted followers of Christ via fellowship and service to others through ministry and mission
Ministry Coordination ~ Prayer ~ Social Media ~ Fellowship
~ Spiritual Leadership ~ Helping Hands
These Ministry Teams will address the spiritual, physical, emotional, intellectual and relational needs of our senior members.
Ministry Coordination Team

(Contact: Henry Zitrower)

Provides oversight of the senior adult ministry teams, specifically:

Identify Ministry Needs
Liaison with CW Pastoral staff
Ensures Team Leaders are trained and qualified

Prayer Team

(Contact: Henry Zitrower)

Prayer warriors for our seniors.

Hold regular team prayer meetings
Develop a means to collect and manage written prayer requests
Continually update the prayer list
Respond to prayer requests—let individuals know they're being prayed for and keep appraised of updates
Identify prayer requests that may require follow up visit by the Pastoral Staff

Social Media/Communications Team

(Contact: Bill Roos)

Responsible for communication important updates about the OWLS ministry

Create and maintain Senior Adults info page on CW website
Maintain a current contact list
Post on-line newsletters
Email/Telephone Communication

Spiritual Leadership Team

(Contact: Henry Zitrower)

This team will focus on the spiritual welfare of CW seniors

Senior Adult Gathering
Small Groups
New Believers Class Targeting Seniors
Evangelism training

Senior Adult Fellowship Team

(Contact: Henry Zitrower)

Responsible for organizing events that promote "fellowship" among CW seniors.

Organizes fellowship Events, Meals, Outings
Promote welcoming atmosphere to seniors

Helping Hands Team

(Contact: Henry Zitrower )

Gifted caregivers that provide timely assistance to seniors in a time of need

Drivers (doctors, church, etc)
Shut-in care (prescription, groceries, etc)
Minor home maintenance (housekeeping, yard work, etc)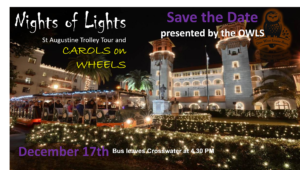 St Augustine Nights of Lights
Tuesday, December 17
4:30 pm Bus Departs from Crosswater Church
$32.00 per person
Please note: Registration starts on Tuesday, December 3rd @ noon.
Only the first 50 sign ups will be accepted due to transportation limitations.